ADVANTAGES OF BRICKS

WHEN YOU BUILD A HOUSE FOR THE FIRST TIME, YOU NEED TO TACKLE A WHOLE NEW SET OF PROBLEMS. ONE THING IS SURE: WHEN YOU FINISH YOUR HOUSE, YOU'LL SPEND MANY HOURS INSIDE IT.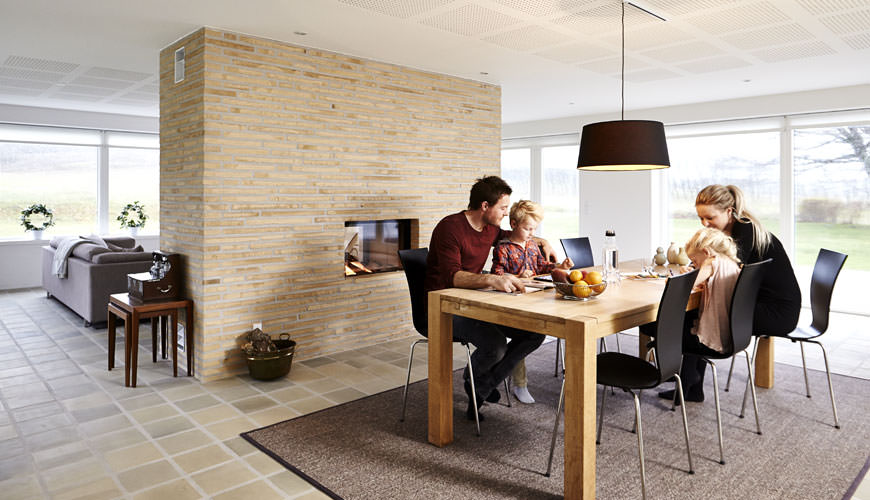 Building a house exclusively of bricks can be costly, but it's a sensible investment that pays off. Interior walls made of bricks help adjust the building's temperature, as they store heat and cool air. In winter, the walls offer warmth, while on a hot summer day they have a cooling effect. This creates a pleasant indoor climate, which means healthy houses.
Besides comfort, a building made of bricks also has some financial advantages. Houses made entirely out of brickwork cost less in the long run, because they need less energy for heating. Research has proved that bricks for internal walls are best suited to households with passive and lower energy consumption, as the walls efficiently support the house's heating system and also absorb humidity that cannot escape through efficient climate shielding.
Finally, it is also very beneficial that houses completely made of bricks are often more attractive and attract higher values, should you want to sell them one day. This is down to, among other factors, the excellent properties relating to energy consumption and indoor climate, and in addition, houses completely made of bricks are already associated with better quality.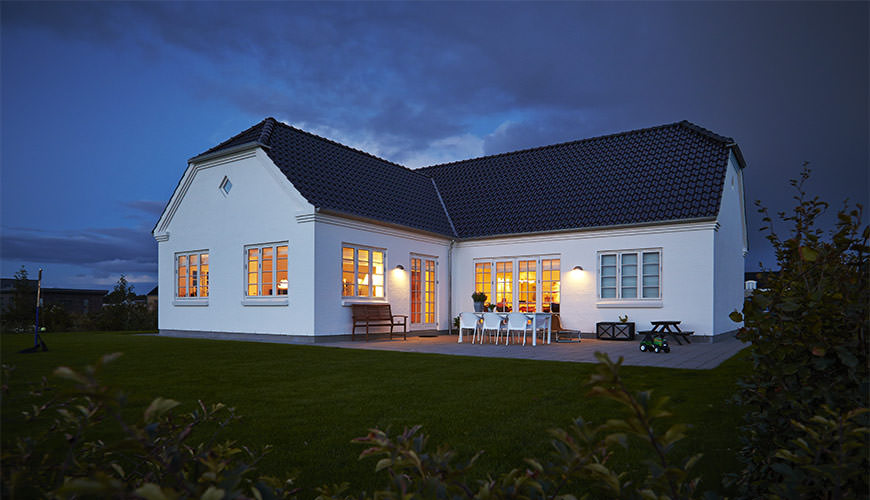 A HOUSE COMPLETELY MADE OF BRICKS ONLY OFFERS ADVANTAGES
Perhaps you know exactly what you want? Perhaps you're still on the lookout for more options and you're currently welcoming suggestions for the perfect house? One thing is sure: when you finish your house, you'll spend many hours inside it. We spend up to 90% of our time indoors. This is why it makes sense to integrate the indoor climate into the planning process when you intend to build a house.
Brick is one of the most suitable materials for indoors, if you want to offer your family the best climate. There are many reasons for this - actually, so many that we could print a whole leaflet just about the advantages of a house completely made of bricks.
In a house completely made of bricks, the façade and the interior walls are also made of bricks. You'd also have heavier walls, in comparison to lighter alternatives, such as porous concrete, cement, gypcrete or wood.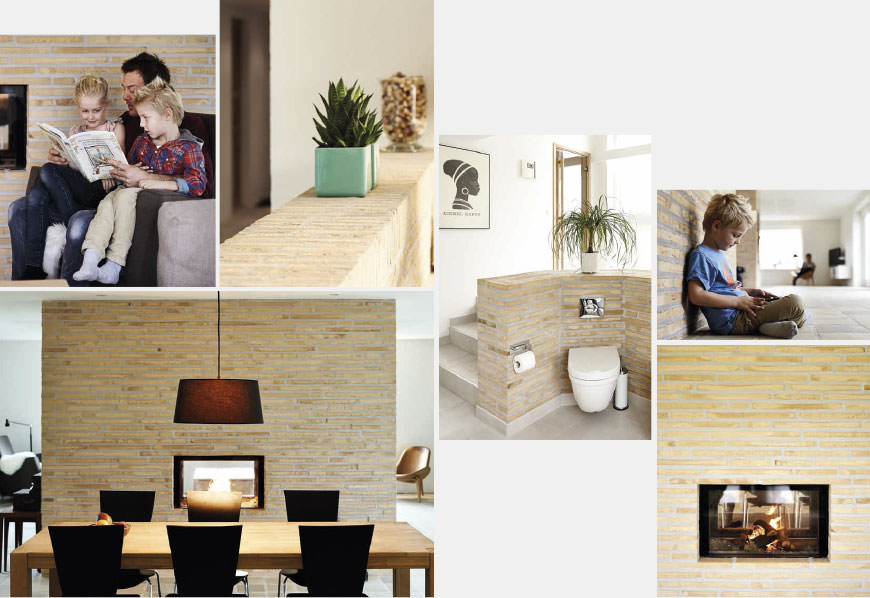 A HOUSE COMPLETELY MADE OF BRICKS IS A PIGGY BANK
Brick walls are ideal for modern and energy efficient buildings with new heating systems. These include for example, heat pumps, combined with floor heating and interior walls made of bricks; practical, technically well thought-out and promising solutions, whose costs soon pays for themselves.
The heavy interior walls contribute, through their thermal mass, to a constant temperature. Likewise, when the sun shines or it's cold, you can balance any temperature swings. It's quite useful, in respect to the modern building regulations, which specify that indoor heat should be obtained through a low, but constant temperature.
In the summer, the demand for coolness and ventilation is reduced, thanks to the solid walls. The excess heat has become a luxury problem of energy-efficient houses. Brick-built walls offer a constant, pleasant temperature, also noticeable in energy consumption.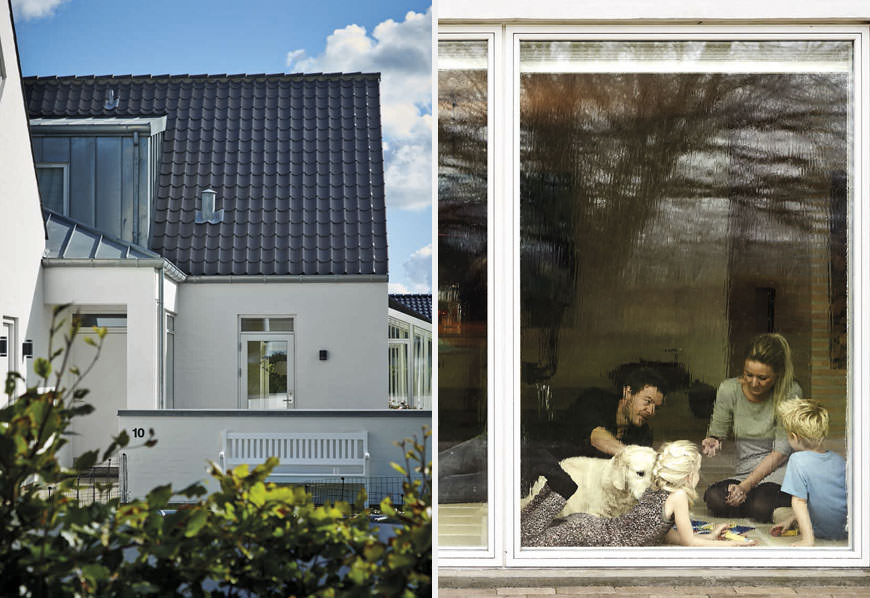 DESIGNED FOR FAMILY LIFE
After you've lived in a house completely made of bricks, you won't want to live anywhere else. The brick walls seem to have been created for dynamic family life, where people reorganize furniture, switch rooms and change direction as they go. The solid wall bears the stresses of everyday life and family activities. For this reason you can be glad that brick walls need no maintenance. Plastered walls are easy to clean, and at the same time shelves, cupboards and so on can be easily mounted directly onto the wall, without the help of additional devices and special tools.
The load capacity of a screw is many times bigger than in the case of light building methods.
BUILD GREEN WITH BRICKS
Brick is a trusted building material that lasts for many centuries. We actually don't know how long the bricks last, as some of the oldest buildings in the world are still standing and there is no doubt they'll keep standing. Thus, brick is one of the most ecological building materials on the market, as bricks will always last longer than wood, cast and other light building materials.
A house completely made of bricks has a future, and the more energy-friendly you intend to build, the more relevant it becomes to decide on a completely brick-built house. By building in brick, you can enjoy a house that is both good for your health and your wallet.

WHAT IS A HOUSE COMPLETELY MADE OF BRICKS?
In a house completely made of bricks, the façade and the interior walls are also made of bricks. It presents many advantages, for example, a good indoor climate, durability and a good sale value.

REAL BENEFITS
An interior wall made of bricks does not deteriorate as quickly as other materials. It has a higher durability and reduces the risk of cracks.

100% NATURAL
Brick is a clean natural material that doesn't impact on the environment. Bricks are fired at temperatures so high that organic materials are eradicated.

COST EFFECTIVENESS
A house made entirely of bricks is an investment, and it pays off in the short-term and long-run. The extra cost of an internal wall made of bricks can be held down.

STORING HEAT AND COOL AIR
Brick is a heavy material that stores heat and cool air. Thus the indoor climate is very pleasant and you save energy.

BALANCED AIR HUMIDITY
Bricks can easily absorb humidity, as they have a surface which is more diffusion-open than other materials.

ALWAYS DRY AND HEALTHY
Bricks are 100% inorganic and absorb humidity better than other materials used in construction. This combination minimises the risk of mildew and dust mites.

PSST ...
Brick is a heavy material, which offers the best noise absorption between the individual rooms. Noise coming from outside is likewise insulated, thanks to thick walls.